How do I apply for funding?
For SCQF Level 4 – 6 courses, you will be emailed a link to our online Funding Application Portal (CAMS) along with your student reference number, once you have been offered a place on a course.
It will be emailed to the personal email address you used when applying for your course. It is essential that you check your email regularly as this is how we will communicate with you.
Students at SCQF Levels 7 and 8, can apply to the Students Awards Agency (SAAS) online. If you have any questions about SAAS funding please contact either SAAS or a student adviser.
How do I activate my Funding Application account?
Once you have been offered an unconditional or conditional place on a course at Dumfries and Galloway College you will be sent an email to your personal email address with a link to apply for funding and your student reference number. Click on the link sent to you and click the button labelled "ACTIVATE ACCOUNT" to start. Follow the steps below for help completing your form.
If you have any problems while completing your funding application please contact the Student Funding Team studentfunding@dumgal.ac.uk.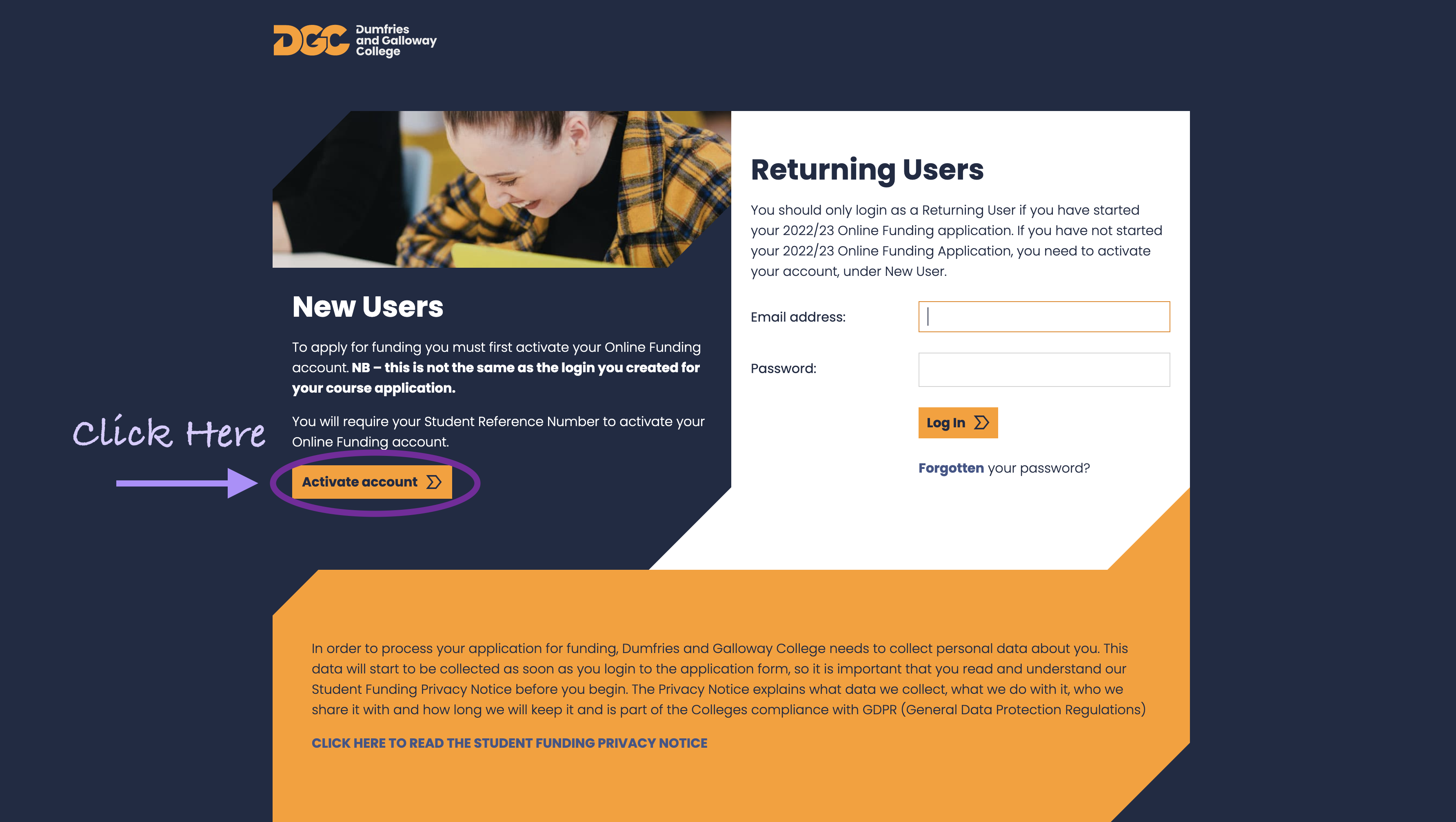 1. Click on Activate Account to get started
You will be emailed a link to the CAMS the Funding Application portal. This email will be sent to your personal email address (the one you used to apply for your course). Click on this link then click on the button labelled "Activate Account".
You need to do this even if you have been at college before as you need to apply for funding every year.
2. Fill out the activation form with your details
Enter your student reference number into the relevant field. This ID number is automatically generated by Admissions and can be found in the email sent to your personal email address.
Fill out the reset of the form with your Surname and Date of Birth and click "Continue"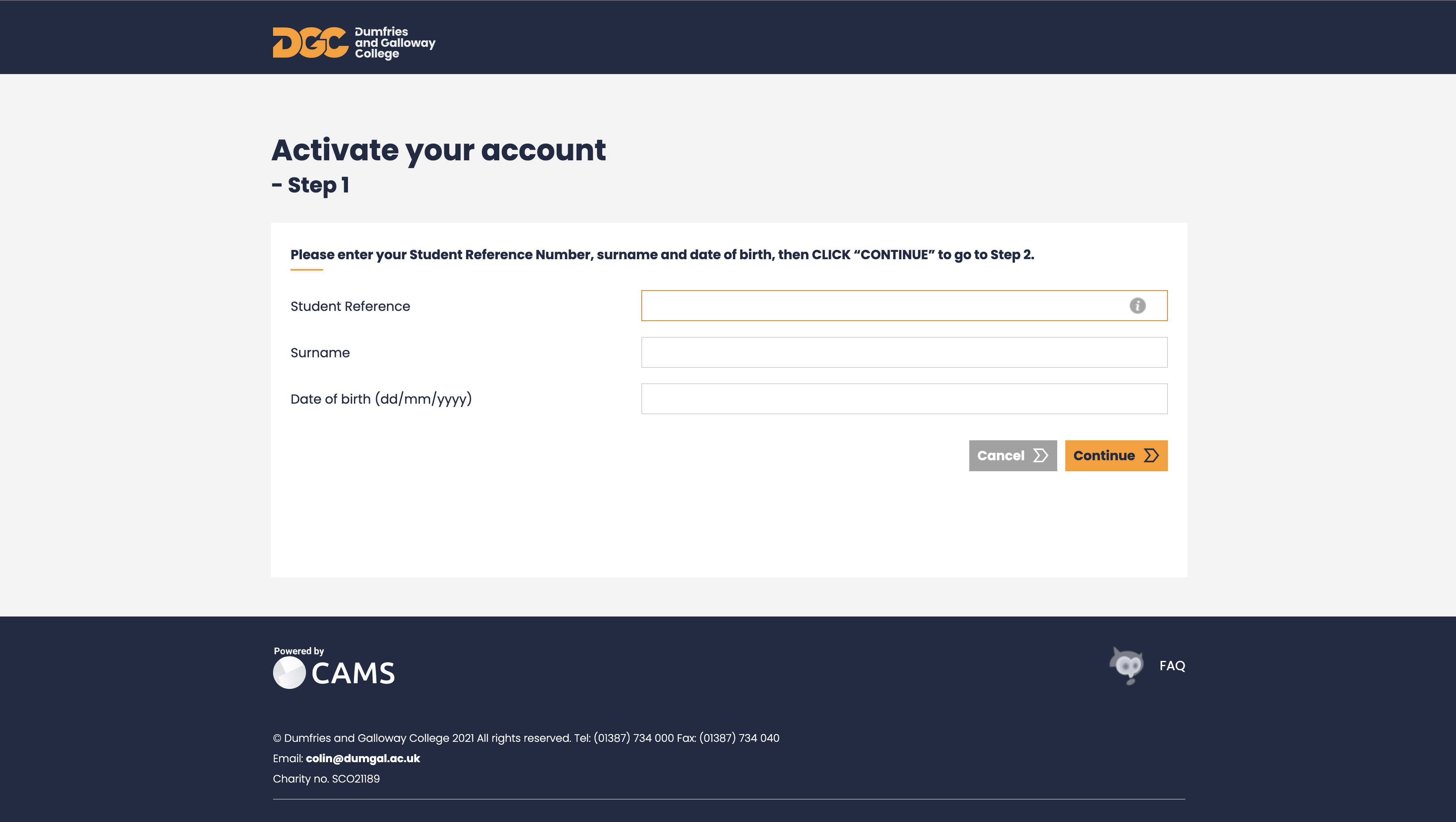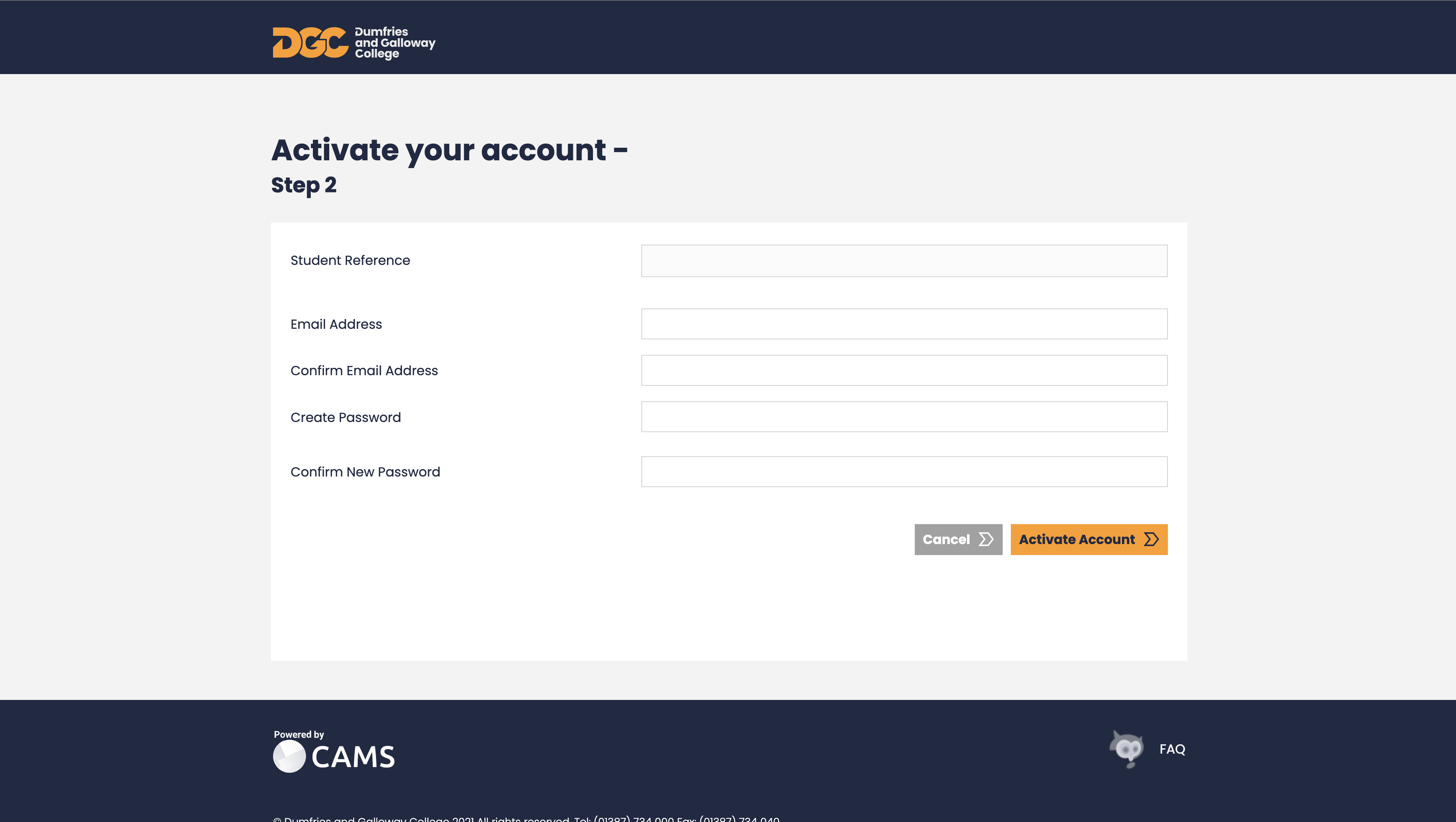 3. Add your personal email address and create a password
On the next page you will be asked to enter in a contact email address – this should be your personal email address and will be used to contact you with any updates about your funding.
You will also be asked to set a password. Remember to save this in a safe place for future use.
Once all your details are correct click "Activate Account"
4. Click Continue
On the next page you will see a confirmation that your account has been successfully activated and you can click "Continue" to go to your dashboard.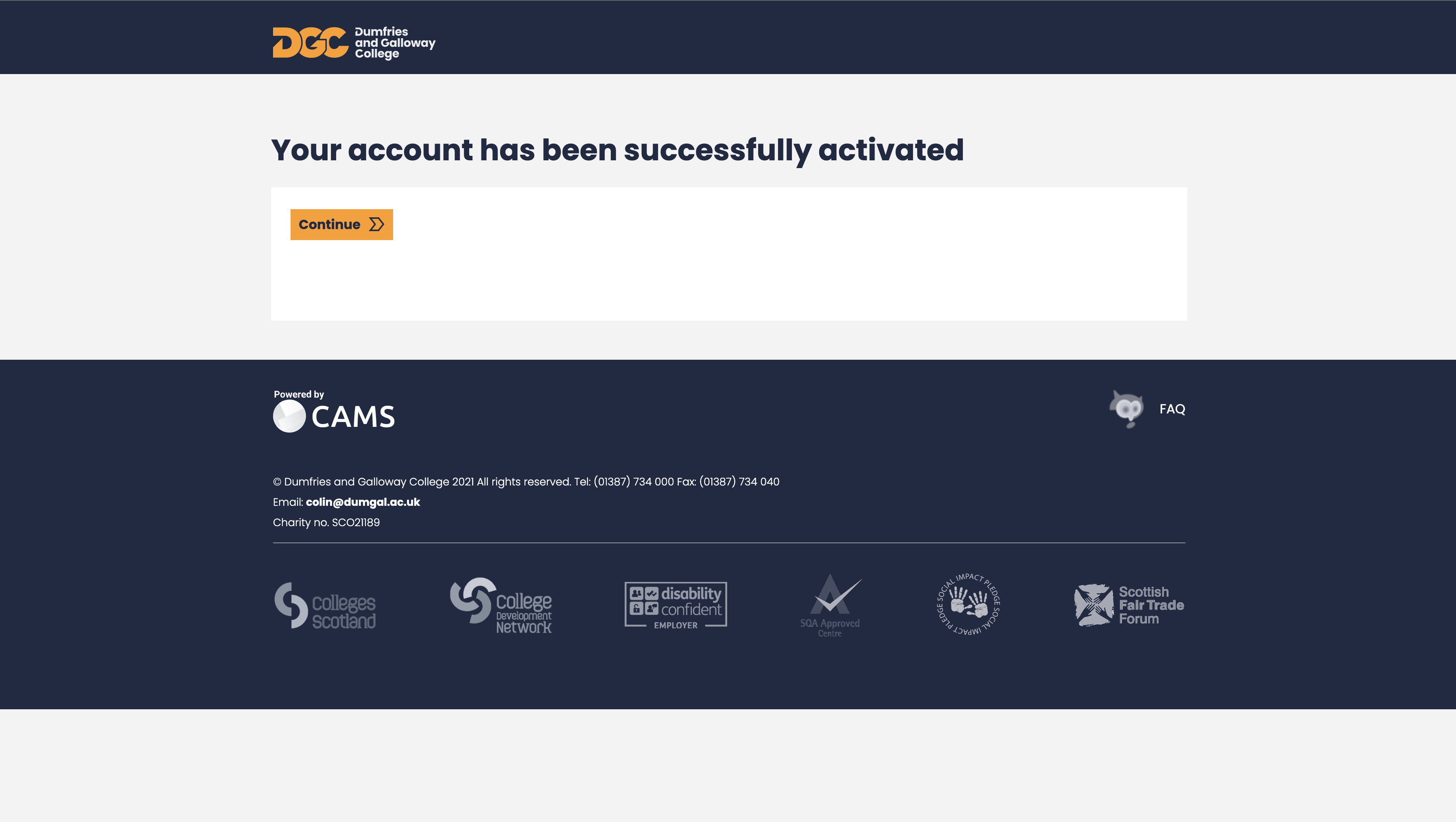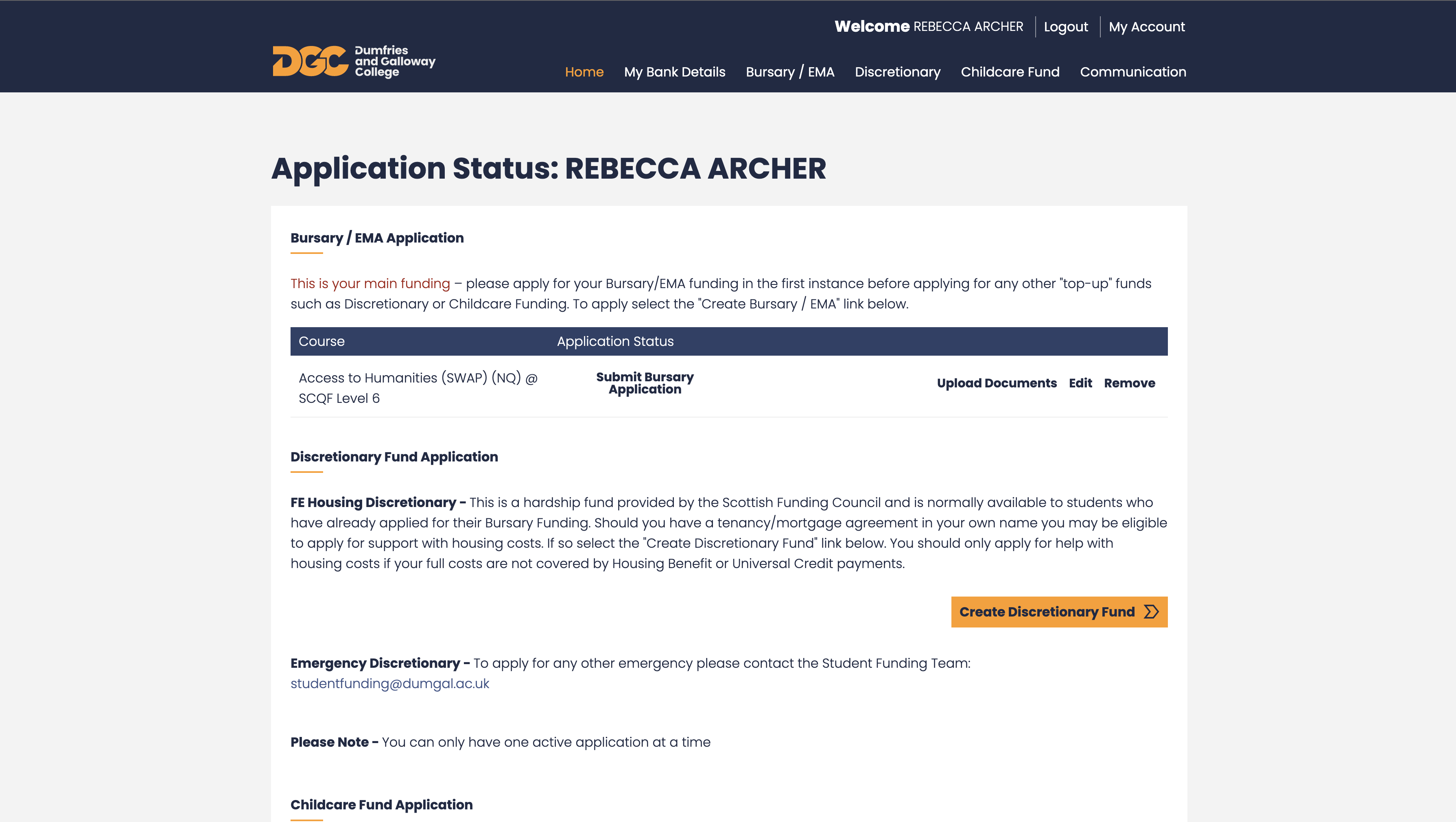 5. Creating a new Application Form
On your dashboard page you will notice that there are different funds on the tab to apply for. If for example you click on the Bursary/EMA tab it will open up a new application for applying for a Bursary/EMA .
You can fill your application form out all in one go or come back to it until you are happy that everything is correct and submit.
Logging Back into CAMS (Funding Application Portal)
To come back to your application forms in CAMS later you will need to log back in. To do this you can return to CAMS and use the Returning User login form. You should enter your personal email address and password that you set when activating your account.
Once logged in you will see a dashboard with a list of all your current applications. You can then click "Edit" to continue them or start a new one.
If you have forgotten your password you can click on the forgotten password link at the bottom to reset it.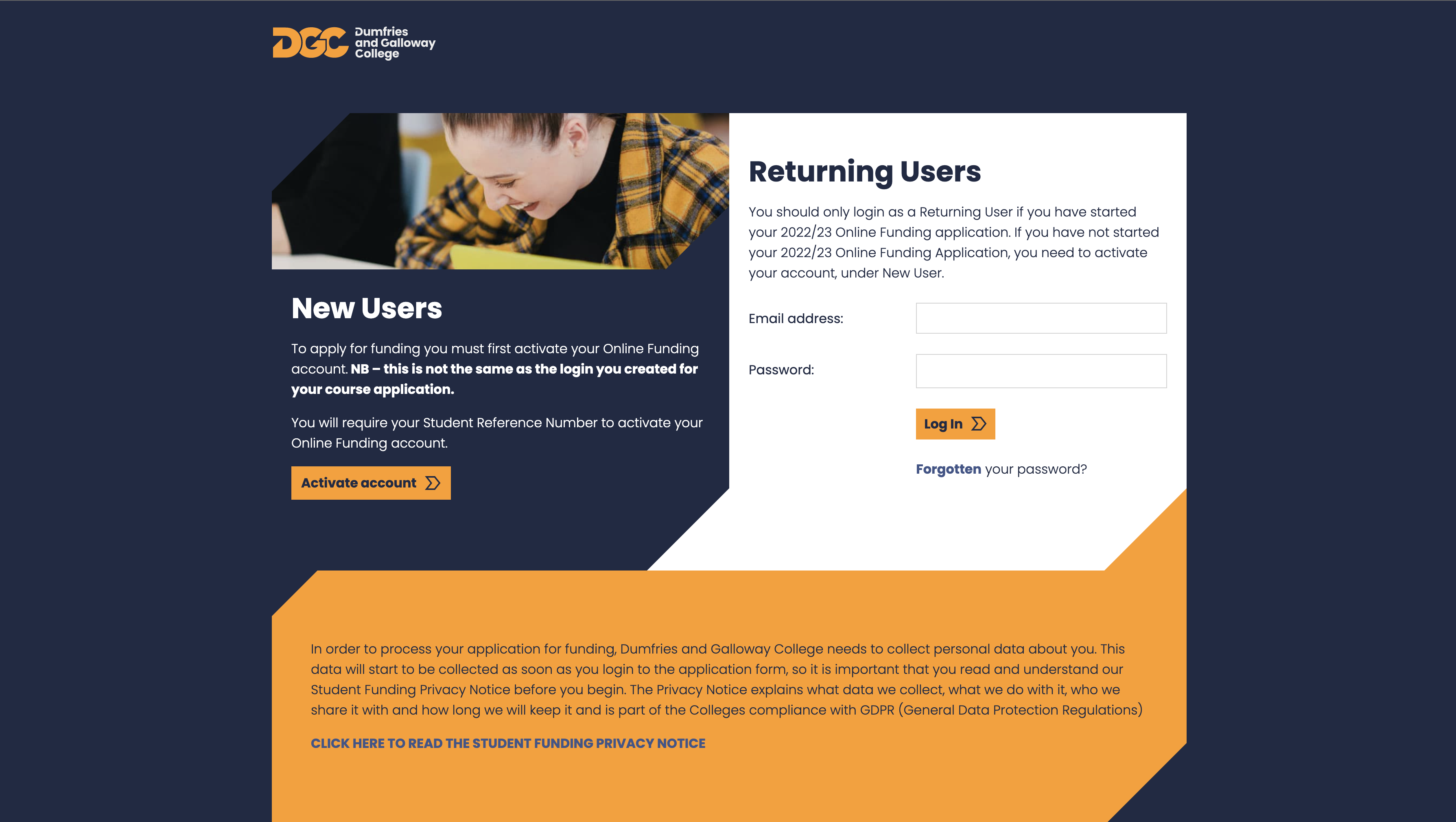 When should I apply?
You should apply as early as possible, as soon as you have been offered a place on the course.
If you don't get on the course you want, you can contact us and we will change or cancel your application.
You should note that your application cannot progress and will not be considered complete until all the evidence is received.
What happens after I submit my application?
We will acknowledge receipt of your application by email. The email will also remind you of any evidence you still have to submit before we can assess your application.
How will I find out how much I am entitled to?
If your application is successful, you will receive an award notice, telling you how much you will receive.
It will also contain a payment schedule telling you how much your payments are and when instalments are due. Usually this is fortnightly instalments.
What if my funding application isn't successful?
If your application is refused, you will receive an email from the college outlining the reason for refusal.
Getting Help & Advice
If you have any questions about how to fill out your funding application form we have a handy FAQ of frequently asked questions you can refer to. If your question has not been answered there, you can also contact the Student Funding Team via studentfunding@dumgal.ac.uk