How do I report absences?
Students should attend all timetabled classes to receive payment for both Bursary and Education Maintenance Allowance (EMA). Attendance is checked every 2 weeks and failure to achieve full attendance each week may result in payment being stopped for one or both weeks.
This means if you are marked absent from even one class, you should either cover it with an online absence self certificate, or speak to your lecturer if you think it is a mistake.
Payment is also linked to engagement, as determined by the Curriculum Managers.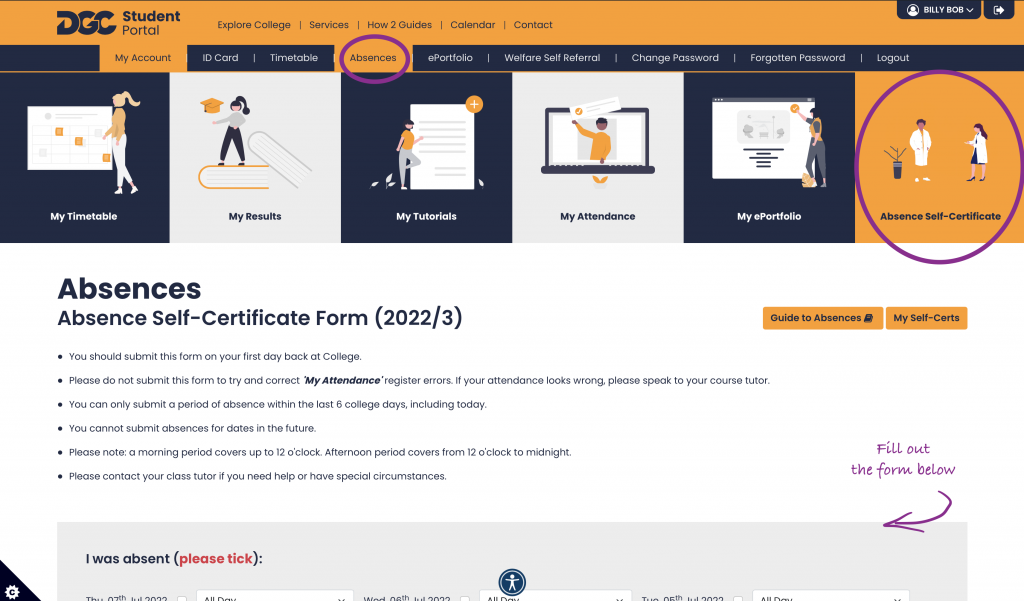 How to Self Certificate?
If you are absent from College for any reason, you should submit an online absence self certificate by logging in to the student portal and clicking on "Absences" and filling out the form to cover your absence.
A text message will be sent to you on the evening of your absence, reminding you to do so. You should check later that your self certificate has been accepted and your absence covered.
It is your responsibility to check your attendance regularly through the Student Portal.
The system is available from the first day of absence and locks down after 7 days. You should submit your online absence self certificate on your first day of absence otherwise payments may be withheld or delayed.
If the date of your absence is no longer visible, it is too late to submit a self certificate to cover it. If you consulted your doctor however, we can accept a "Statement of Fitness for Work" certificate. If you delay submitting an absence and miss the deadline for student funding payments then they will be paid in the next scheduled payment run.
When you have used your 4 days' absence self-certificates the system locks down and you will not be able to enter any further absences.
You may self-certificate up to a maximum of 4 days per term:
| Term | Term Dates |
| --- | --- |
| Term 1 | 22 August 2023 - 13 October 2023 |
| Term 2 | 30 October 2023 - 22 December 2023 |
| Term 3 | 08 January 2024 - 22 March 2024 |
| Term 4 | 08 April 2024 - 14 June 2024 |
You should make any routine doctor/dental appointments outwith your timetabled classes.
Medical Certificates
"Statement of Fitness for Work" Certificates (signed by your doctor) up to a maximum period of 6 weeks per term will be accepted for Student Funding purposes. They should be submitted to the Student Funding Team, as you will not be able to enter them online yourself.
Students with an Existing Medical Condition
If you have a medical condition which may mean you require additional time off, this may be granted, providing necessary evidence has been submitted to either the Student Funding Team or a Student Adviser.
Appeals
If your funding has been stopped as a result of absence and the maximum permitted days' absence has been used, you may submit an appeal if one of the following reasons applies:
| Reason for Appeal | Evidence Required |
| --- | --- |
| Court Appearance | Court Summons, Jury Duty Citation, Witness Citation |
| Hospital Appointment | Appointment letter |
| Transport Problem | Please provide details to Student Funding Team who will follow up with college Estates department |
| Childcare Problem | Submit details |
| Funeral | Submit details |
| Carer responsibility e.g. looking after an adult dependant on you | Submit details |
If you need help managing your absences, or wish to discuss your own circumstances further, please speak to your Student Adviser at the college.