Nutrition
Healthy eating is when you eat a variety of foods that contain all the nutrients that your body needs to keep you healthy.
We need to ensure that we have enough vitamins, minerals, fibre , carbohydrates and other nutrients. The reason we need to eat healthy is to ensure that our body is healthy. Our body in like a car and the food is our fuel, without it we will not be running. Nutrients help keep us fuller for longer and help repair our blood and cell which helps us keep healthy. It is important to have a healthy and balanced diet as too much of one type of food can have the opposite effect it should have on the body.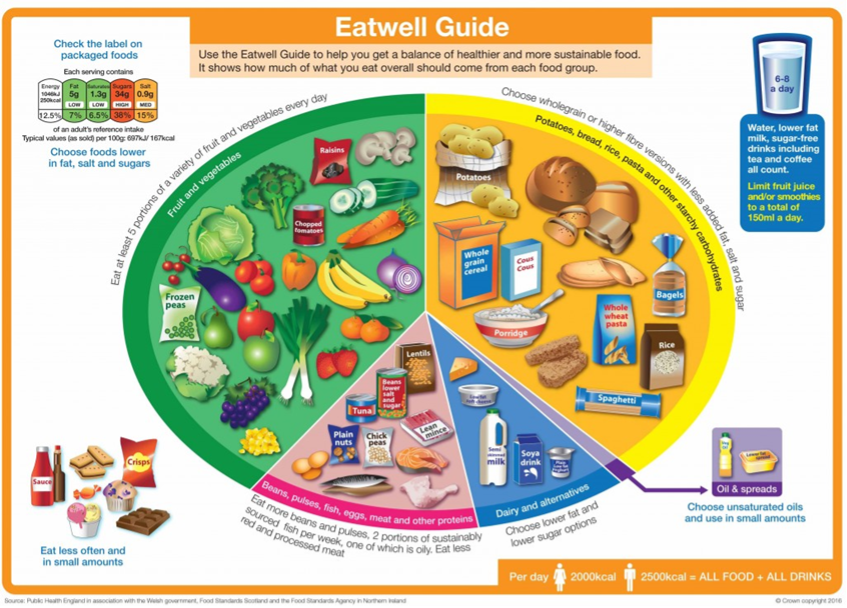 Food groups in your diet
The Eatwell Guide shows that to have a healthy, balanced diet, people should try to:
eat at least 5 portions of a variety of fruit and vegetables every day (see 5 A Day)
base meals on higher fibre starchy foods like potatoes, bread, rice or pasta
have some dairy or dairy alternatives (such as soya drinks)
eat some beans, pulses, fish, eggs, meat and other protein
choose unsaturated oils and spreads, and eat them in small amounts
drink plenty of fluids (at least 6 to 8 glasses a day)
Student Foodbank
If you are struggling you can pop in & take what you need for free, you do not require any form of referral to access this.
Our Dumfries student food bank is located in room 1012b within The Point (one of the private offices – it has a Food Bank sign on the door). Stranraer's is based in the SA Office.
If anyone would like to donate to the food bank, donations can be left within The Point (Dumfries) or SA office (Stranraer).